x 9
000 MPH

x 0

x 5

x 1
Click icons to use

Product
Value
Cost

Wrench
Use the Wrench to knock out incorrect answers, improve your chances to answer correctly, and help you save lives!



** Click on Wrench icon above to use **

30 Coins = 5 Extra Wrenches
You have

5

Wrenches now



Fuel
Buy Fuel to get 5 extra lives during a quiz!



** Click on Fuel icon above to use **

120 Coins = 1 Fuel
You have

1

Fuels now


Information Search
You are in car marked Y and want to turn right using a median turning lane. A car marked O, coming towards you, is already in the median lane; it is slowing down and indicating. Are you permitted to enter and share the median turning lane?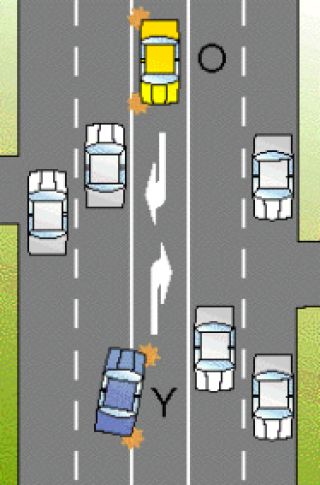 No, if another car is already in the median turning lane you must not use it.
-Yes, but only if you race the other car and get to the turning position first.
Yes, but you must be prepared to slow down and stop.